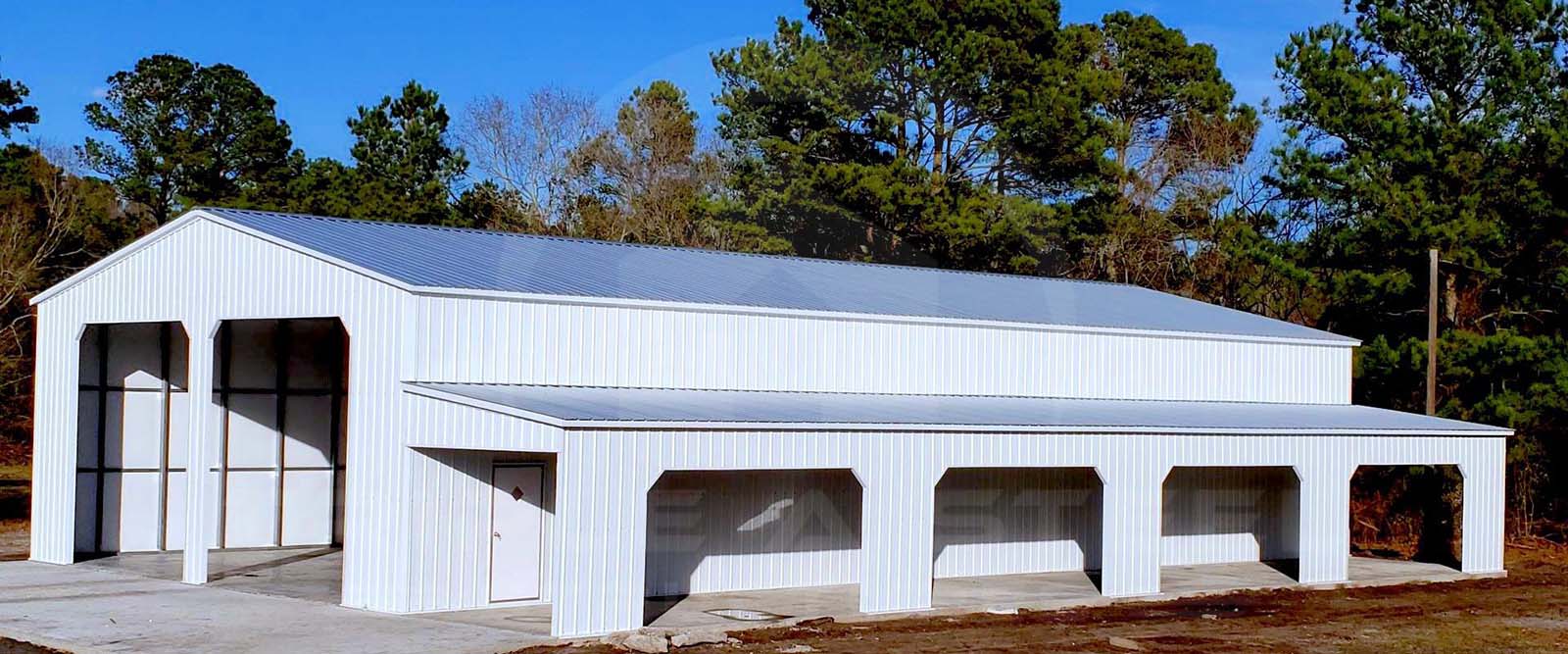 Explore our Best Steel Structures
Discover Versatile Metal Buildings from Triple-A Steel Structures
What Makes Triple-A Steel Structures the Most Trusted Name in the Industry?
The metal building industry is saturated with names trying to win your business, but very few are actually worthy of it. When you choose Triple-A Steel Structures, you can feel confident knowing that you are working with one of the most established, reputable brands in the metal building world.
Triple-A Steel Structures is well-known for its superior metal building quality, outstanding customer service, and an impressive variety of designs. From barns to garages and beyond, Triple-A Steel Structures' selection is second-to-none. With a vast network of representatives across the United States, you can rest assured knowing that Triple-A Steel Structures is there to serve you when you need it most!
Know More About Triple A
Excellent Customer Service
Triple-A Steel Structures works hard to build a relationship with each customer it builds a building for. From ensuring your building is exactly what you want to supporting you long after, Triple-A Steel Structures is your friend in the metal building industry.
The Best Quality
World-class materials and a commitment to quality mean that your metal building from Triple-A Steel Structures will endure for years with little to no maintenance.
Pricing
Thanks to an extensive network and streamlined processes, Triple-A Steel Structures can offer top-quality metal buildings at industry-best prices.
Experience
Triple-A Steel Structures employs the best metal building professionals in the industry, ensuring that your questions—no matter how basic or complex—are not only answered, but explored and explained as thoroughly as possible.
As one of the most popular building types in the United States, the demand for metal buildings continues to rise. This widespread movement toward metal buildings is due to the numerous advantages they offer, such as strength, versatility, and weather resistance, to name a few.
Triple-A Steel Structures has established itself as the best dealer of metal buildings by providing top-quality buildings of all varieties. From large commercial metal buildings to backyard metal sheds, Triple-A Steel Structures does it all!
Agricultural endeavors require tremendous amounts of versatile, durable space in order to thrive. Steel barn buildings are incredibly popular amongst farmers because they provide just that and more. As the most affordable, customizable barns on the market, the benefits of metal barns are clear.
No matter what type of barn you need—Carolina barn, Horse barn, Seneca barn, etcetera— Triple-A Steel Structures is the dealer for you. Triple-A Steel Structures will work with you to ensure your barn meets your needs and exceeds your expectations.
Aside from their home, the most expensive purchase most Americans will make is for their vehicle. It only makes sense that metal garages that protect those expensive investments are exceptionally popular. It doesn't hurt that metal garages also happen to be very versatile.
With all of the popular metal garage options available, as well as completely custom offerings, Triple-A Steel Structures is the ultimate metal garage dealer. Boxed-eave, regular, and vertical style garages are just a few examples of the variety Triple-A Steel Structures offers.
Resembling the symbol of American freedom and recreational spirit, RVs carry big dreams. They also demand large amounts of space to facilitate their storage, maintenance, and repairs. That's where the popular RV carports from Triple-A Steel Structures shine.
With a wide variety of the best RV carports in the industry, Triple-A Steel Structures is the one-stop-shop for all things related to metal RV storage. Don't let the wear and tear of time and the weather dampen your summer fun—protect your RV with Triple-A Steel Structures.
Affordable, customizable, versatile, and an all-around fantastic investment for your property, metal carports from Triple-A Steel Structures are one of the most cost-effective ways to enhance any home. From protecting your vehicle from the elements to giving you the workshop you've always dreamed of, metal carports are popular for many reasons.
Triple-A Steel Structures has every style of metal carport you can dream of, including regular, vertical, and boxed-eave designs. No matter what your needs and tastes are, Triple-A Steel Structures will work with you to ensure your metal carport is a dream come true.
Looking for the perfect metal building to fit your needs?
Call today to speak to an experienced metal building expert!
Customize Your Perfect Metal
Building With Our 3D Designer Tool
3D Designer
Financing
Flexible financing for every metal building buyer.
Triple A Steel Structures is committed to working with you to secure the financing you need to obtain your dream RV carport, metal garage, or triple wide building. This includes easy applications, flexible plans, and a painless buying process. Thanks to Triple A Steel Structures partnership with PowerPay, you can get financing up to $100,000 with low monthly payments and no pre-payment penalties!
Up to $1000,000
Lowest Monthly Payments
No Credit Fees
No Prepayment Penalties
Rent To Own
Rent it, then own it. It's that simple!
Rent-to-own programs are exceptionally popular. These flexible financing programs allow you to quickly begin using your building while simultaneously paying it off. The application process is simple, the approval process is quick and easy, and the results are ownership of your dream metal building! What could be better than that?
No Credit Check
Instant Approval
Month-to-Month Contract
Payoff Anytime
HFS works with homeowners seeking loans in the $20,000 range up to $500,000.
Direct-To-Consumer Funded
No Impact On Credit
No Equity / No Appraisal
Industry Leading Terms
Fund All Home Improvements
Inquiry takes 1 minute.
HFS performs a soft credit check so there is NO IMPACT on your credit to get your loan terms.
Once conditionally approved, you will be presented "loan terms" within 24 hours.
Once fully approved, the full loan amount funds directly to the consumer's checking account. This makes for easy funding and easy payments for both the contractor(s) and customer(s) involved.
Enjoy free expert information from Triple-A Steel Structures
Ready to
start enjoying
your dream metal building?
You've done the research, now it's time to take action. Fill out our easy online form to receive a free quote. Once you do, a metal building specialist will contact you to discuss your dream metal building and the steps you can take to design and order it!
"*" indicates required fields